7 bodies of Tamil Nadu fishermen washed ashore in Jaffna identified
[TamilNet, Sunday, 09 August 2009, 16 GMT]
Relatives of the seven Tamil Nadu fishermen whose bodies had been washed ashore in the islets of Jaffna last week identified the bodies Sunday, sources in Jaffna said. They identified the bodies as the fishermen who had gone missing from Raameasvaram and Thanushkoadi in Tamil Nadu.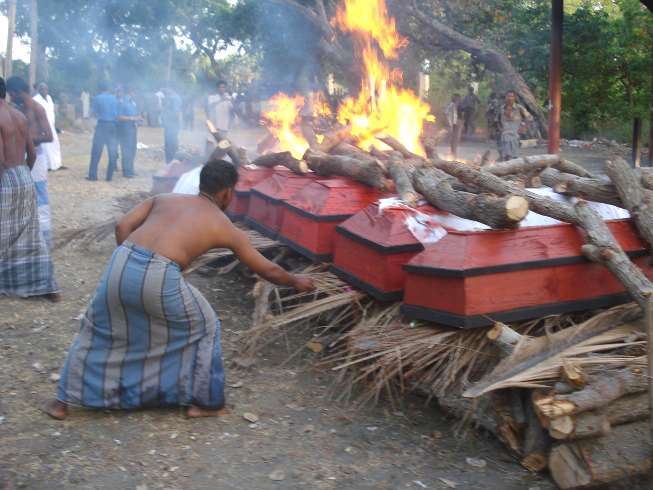 Eight fishermen from Tamil Nadu were brought to Sri Lanka by Indian Navy and handed over to Sri Lanka Navy (SLN) in Ezhuvaitheevu in the islets of Jaffna Saturday.
The fishermen were brought to Jaffna town Sunday where they identified the seven bodies kept in Jaffna Teaching Hospital (JTH) mortuary.
The bodies were identified as of Rajendran Rathakrishnan, 28, a father of 2 children, Sellaiah Sethumathavan, 27, the father of 2 children, Marimuthu Saravanan, 28, Nilavan Thevachandran, 46, Ganeshan Muniraj, 22, the father of one child, Rajah Senthilkumar, 21 and Nakaraj Nakanathan, 18.
The bodies were identified with the help of identity documents found with the bodies and the tattoo marks in the presence of Oorkaavattu'rai magistrate in JTH mortuary.
The relatives of the victims then took the seven bodies to Koampaiyan crematorium in Jaffna where they were cremated together.
The fisheries societies in Jaffna lent their full support to the fishermen from Tamil Nadu in carrying out the cremation.